Porcelain crowns are a permanent, natural looking tooth restoration option for patients who:
Made of a specially formulated porcelain composite material, porcelain crowns can replicate the look and feel of your natural tooth, including the durability, color, translucency, texture, and function.
Learn about:
The Procedure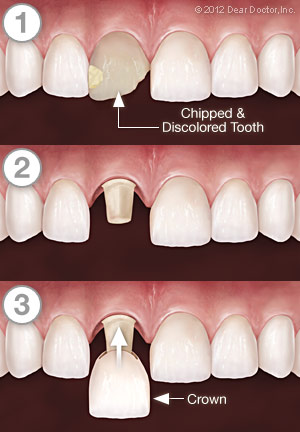 The procedure for porcelain crowns takes place over two office visits.
During your first visit, Dr. Huefner will remove any damaged or decayed material from your existing tooth, prepare the surface, then take a precise mold of your tooth to use in crafting your new porcelain crown. He will then fit you with a temporary crown to protect your tooth until your next visit.
When you arrive for your second appointment, Dr. Huefner will inspect your custom porcelain crown for fit and appearance. When Dr. Huefner is satisfied with the fit, shape and color he will then show you the crowns for your approval before bonding them into place.  Next, he will apply a special adhesive to the existing tooth and fit your crown over the top, bonding the crown securely.  The porcelain crown will cover the entire visible portion of your tooth.
Finally, if necessary, he will make any final adjustments to the size and shape, and will polish the tooth to a smooth, natural finish.
To learn more about porcelain crowns and our other state of the art dental techniques and technologies, call or email our offices today to schedule your personal consultation.