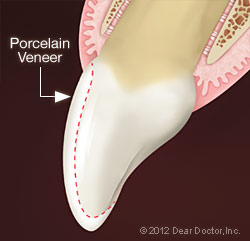 Porcelain veneers are a popular option for patients who have common cosmetic dental problems with their teeth. Veneers are thin shells of dental ceramic that are securely bonded over the surface of your teeth. The semi-translucent material catches the light in the same way as natural tooth enamel, making veneers a realistic and beautiful method of smile restoration. If your smile has ever caused you embarrassment, porcelain veneers are a solid option.
If you are interested in learning more about how porcelain veneers can transform your unique smile, please call us today at ​949-495-6322 to schedule a smile consultation with our experienced Orange County cosmetic dentist Dr. Huefner.
Find out more about porcelain veneers:
Creating a Brand New Smile
Porcelain veneers can fix a number of smile flaws, including:
Chipped teeth
Cracked teeth
Permanent teeth stains
Gaps between teeth
Pitting
Minor crookedness
Uneven or worn-down teeth
Because of their versatility, porcelain veneers are capable of providing patients with a complete smile makeover in just two office visits. Dr. Norman Huefner has over 30 years of experience in the dental field. Learn more about his experience and the experience of his client's in the video playlist below. 
Learn more about:
The Porcelain Veneers Procedure
During your first visit, Dr. Huefner will discuss your goals and expectations for your new smile, and determine whether or not you are a good candidate for porcelain veneers. Together, you will decide on the right size, shape, and color for your veneers. Once you've made your choices, Dr. Huefner will prepare your teeth and create a precise mold of them. He will use this mold to ensure that your finished veneers adhere securely to the natural surface of your teeth.
A set of temporary veneers will be applied to your teeth first. We call this the "trial smile" - it gives you an opportunity to test out your new porcelain veneers and get used to the way they look before we apply the permanent set. If you are unhappy with any aspect of your trial smile, we will make adjustments until you are satisfied.
EMax Porcelain Veneers
Empress veneers are the end result of years of research and study by one of the most popular manufacturers of porcelain veneers in the cosmetic dental industry. Using state of the art pressed ceramic technology; EMax Veneers offer the duel benefit of being:
Up to three times stronger than other types of porcelain veneers
Longer lasting than other types of porcelain veneers
By providing functional support as well as superior aesthetic results, EMax Veneers are quickly becoming the veneers of choice for most of our patients who get smile makeovers with porcelain veneers.
All porcelain veneers are custom created to fit your unique needs and match as closely as possible your existing teeth. EMax Veneers takes this process one step further by offering over twenty different shades of white for their veneers, allowing an absolutely seamless and stunningly natural looking end result.
Replacing Porcelain Veneers and Dental Crowns
There are three main reasons for replacing previous dental work:
It has become damaged over time – After decades, the cement that holds old dental crowns in place can become susceptible to dissolution from your saliva. Fluids in your mouth can then seep into gaps created by the dissolution, causing decay. Additionally, the surface of the veneer or crown can chip or crack after many years of use.
It was not placed well – In order for crowns, porcelain veneers, and other dental restorations to last, they must be carefully fitted to ensure there are no open margins around the restoration, and that they blend seamlessly with the rest of your smile. If a dentist's lack of skill led to problems with the initial placement, you may want your restorations redone by a more experienced cosmetic dentist.
You are not satisfied with its appearance – Sometimes, porcelain veneers and dental crowns may technically be placed well, but patients are not happy with their overall look for various reasons. Whether they are too long, too large, ill-shaped, or the shade is not what you were hoping for, Dr. Huefner can help you achieve a better smile that fits you as an individual.
Patient satisfaction is our number one priority. If you want a new set of porcelain veneers, we will listen carefully to your goals for your smile, helping you accurately visualize what your new smile will look like before we apply the permanent veneers. If you want to replace old unsightly crowns, we will custom craft each new crown from state-of-the-art materials to ensure it is indistinguishable from your natural teeth.
<h3 id="contact>Contact Us
During your second and final visit, Dr. Huefner will affix your permanent porcelain veneers using a specially formulated bonding agent - covering up gaps, chips, cracks, pits, and other problems to leave you with a bright, white, and healthy new smile.
If you have further